Tropical Health Foods LLC
Tropical Health Foods LLC is the USA-based international distributor of the carao fruit product. We are a familly business, providing the finest quality wild Costa Rican carao fruit, produced exclusively for us by a Costa Rican company we founded in 2002. Since then we have shipped it to customers all over the world. We offer the first and only highly concentrated raw carao fruit product. The one other carao fruit product available online, through Amazon.com, is highly diluted and cooked.
Carao fruit is a natural food, generally mixed with milk to make a delicious beverage. It is world-renowned for its health-giving properties, particularly as a natural blood builder. Information and reports on carao fruit as a natural blood builder are found on our website http://www.naturalbloodhealth.com. (Note that the carao fruit product is not intended to treat any disease or condition.)
The Product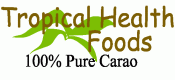 Our carao fruit product is currently 100% wild-crafted, meaning it is produced by wild trees. To our knowledge, no commercial plantings of carao trees exist anywhere in the world.
Our product is 100% pure carao fruit, extracted from the large woody carao pods using spring water, which is then removed by a low temperature evaporation process. In the near future we plan to publish detailed information on our production techniques, to stimulate the production of carao around the world.
This low temperature process, unique in Costa Rica (and as far as we know the world), produces the highest quality carao possible, indistinguishable in taste and (we believe) nutrition from carao fruit still in the pod.
Production of carao is very limited due to the fact that only scattered wild trees exist. We therefore may not able to provide the product to large distributors, although we welcome inquiries from small distributors. We do have a 25% wholesale discount on 8-13 bottles (see our order form). A 30% discount on 14+ bottles is available upon request.
---
Statements on this website have not been evaluated by the US FDA. This product is not intended to diagnose, treat, cure, or prevent any disease.

Powered by Debian Linux
Software in the Public Interest
Server: 109.201.140.86